Welcome to another edition of VOV24/7's Food Delight, a show for all foodies. We're so happy to be here every week to share with you recipes and cuisine ideas. In the mild weather of early autumn, I'm thinking of hanging out with friends in a cozy restaurant and enjoying some grilled fish which is called Cha ca in Vietnamese.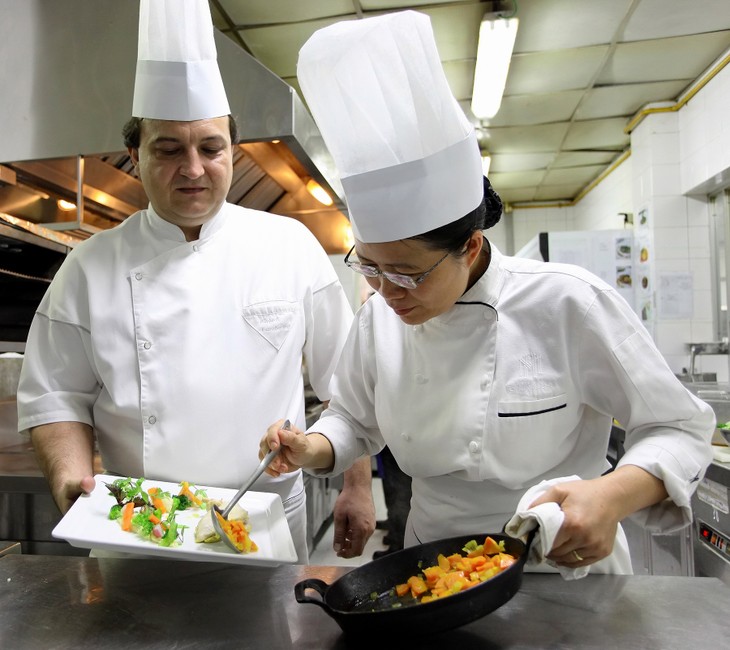 Ms. Nguyen Thanh Van is in charge of the Vietnamese restaurant at Sofitel Legend Metropole Hanoi Hotel.
This is VOV24/7's Food Delight. I'm talking about Thang Long grilled fish, a specialty of Hanoi. Hanoi's cuisine has long been a factor that has attracted lots of travelers. The most significant characteristics of Hanoi cuisine are its sophistication and deliciousness.
Thang Long, or Cha Ca, or Hanoi-style grilled fish is a good example of the sophistication of Hanoi's cuisine, using a variety of spices and herbs in one dish.
On today's show we have Ms. Nguyen Thanh Van, who is in charge of the Vietnamese restaurant at Sofitel Legend Metropole Hanoi Hotel. Along with Bun Cha - grilled pork with vermicelli - Thang Long grilled fish is the most popular dish with the restaurant's foreign guests.
Ms. Van: Cha ca is a very typical dish of Hanoi. To make Cha ca, we use many different spices. You have to choose good fish.
Chi: Hemibagrus catfish (Ca lang) and sheat-fish (Ca anh vu) are two popular kinds of fish that are used to make Cha Ca. What kind of fish do you use?
Ms. Van: Originally, Cha Ca was made with Ca lang from the Red River. But in recent years, Ca lang has become very rare, so people use one of the many other kinds of cat fish. And now people are raising Ca lang on farms.
Chi: Catfish has a very strong smell. How can we get rid of it?
Ms. Van: Catfish doesn't have a nice smell. So, after we kill the fish, we cut a fillet, remove the smell, bones, then clean it with coarse salt. We use salt to clean the surface of the fish skin. Then we wash it a second time using vinegar to eliminate the smell of the fish. We wash it a third time with clean water.
Chi: The grilled fish has a savory flavor complemented by a sophisticated combination of spices and herbs. Van, how do you marinate the fish?
Ms. Van: The spices we use to make Cha ca are: galangal, turmeric, fermented rice, shrimp sauce, fish sauce, and a little bit of sugar. We serve it with dill, green onion, peanuts, and shallots.
To marinate, we mince the galangal and turmeric very fine. We wet the mixture with water, we squeeze it to have juice. We have yellow color juice with flavorful galangal and turmeric. Then we mix with an amount of fermented rice and shrimp sauce. That one as well we have to take the juice. Then we mix together two kinds of juice. We season with fish sauce and pepper, a little sugar. We marinate the fish for at least 2 hours, even we can cover the fish and keep it in the fridge over night.
Chi: Now wonder the fish has unique flavor. It is marinated with various kinds of strong spices like galangal, turmeric, shrimp sauce. And its flavor is also enhanced with different herbs.
Ms. Van: After that, you prepare the hot oil in the flat pan, you fry the dill and green onion to have flavorful oil, you take out the dill and onion, and you fry the already half-cooked grilled fish. You finish the fish in the hot oil. Then you serve with the peanuts, shallot. The dipping sauce can be lightened nuoc mam or fish sauce or shrimp sauce.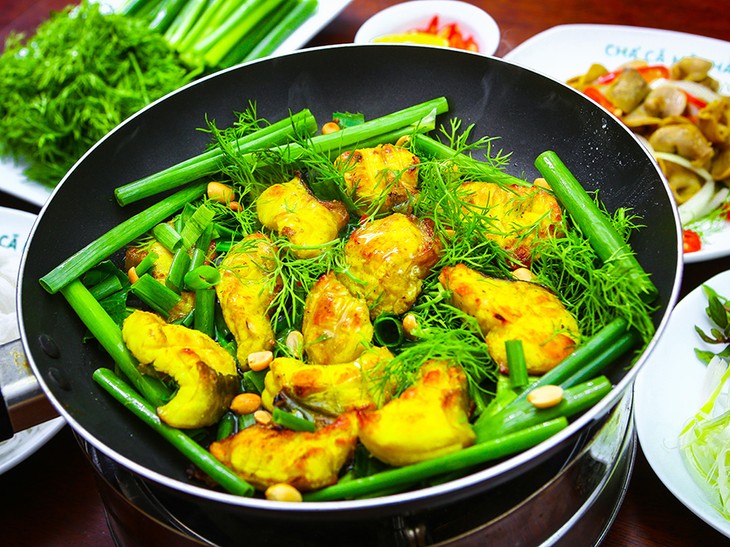 (Photo: kenh14.vn)
Chi: How you serve the grilled fish?
Ms. Van: Cha ca, normally we don't eat with rice, we serve with fresh bun or vermicelli, or some kinds of crackers and a few kinds of herbs like basil, coriander, and the white part of the green onion, we cut it julienne with lime juice and fish sauce.
Chi: Thank you Van for being with us on today's show.
Now, Thang Long grilled fish or Cha ca La Vong are offered in many restaurants not only in Hanoi but also in other areas like Da Nang and Ho Chi Minh City. But Hanoi grilled fish still has its own unique flavor.
Find out more recipes and cuisine on VOV24/7 Food Delight. For now, good bye.
Nguồn: vovworld.vn